Three Ways to Buy Fish
Jones Lake Management provides three convenient ways to add fish to your lake.
Three Ways to Buy Fish
Fish bring your lake to life, whether you need to create a natural balance between species or simply plan for great fishing.
Large selection of fish
Delivery
Fish Day pickup
Farm pickup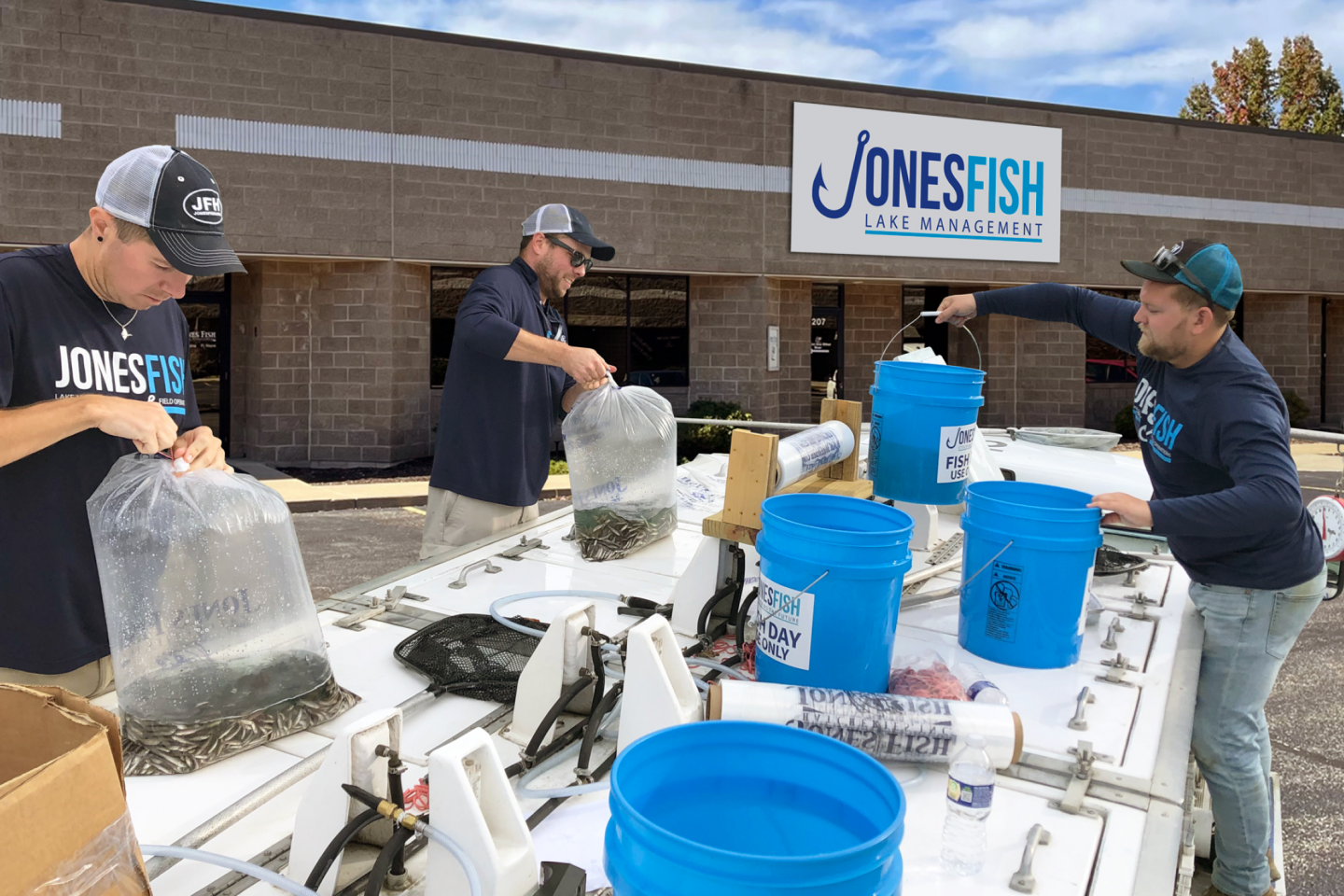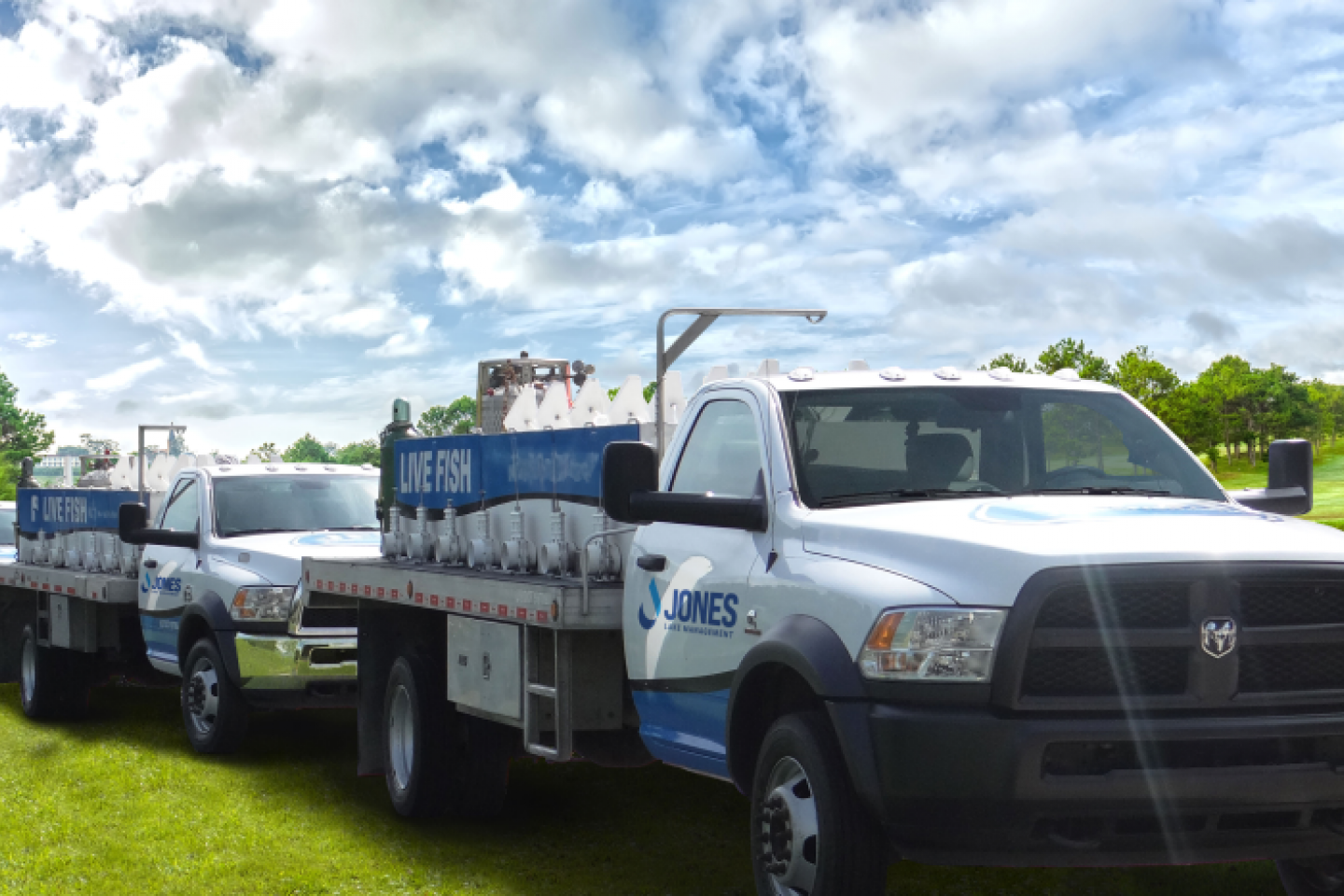 ---
Skilled Employees 
All of our staff are highly trained in their responsibilities, from degree-holding science professionals to licensed applicators and experienced repair technicians.
---
325+ Years Combined Experience
With 325+ years of combined experience, we are leaders in lake and pond management. We work with each client to provide a blueprint for developing the pond of their dreams.
---
Science-Driven Specialists
Our 110+ biologists understand the delicate dynamics of aquatic ecosystems and maintain a balance of health and beauty. 
Jones Lake Management offers three ways to get your new fish safely into your pond or lake.
Fish Day Pickup
Our Ohio, Indiana, Kentucky, and Tennessee branches offer regularly scheduled Fish Days in the spring and fall. Fish Days are ideal for customers that do not have an order eligible for free delivery to their pond, need to receive their fish on a Saturday, or simply do not want to wait for delivery. Place a preorder at least 24 hours prior to your desired Fish Day to ensure your fish will be available. All fish will be bagged with water and oxygen at no additional cost to help them survive their trip to your pond or lake. View our Fish Days.
Farm Pickup
Our state-of-the-art fish production facility in Cincinnati, Ohio, features 19 production ponds and over 45,000 gallons of indoor rearing tanks. We're open for walk-in sales six days a week during most of the year. Fish availability changes daily; we ask that you call ahead to verify that the sizes and quantities of fish you desire are in stock. Transportation supplies, such as plastic bags and oxygen, are included at no additional cost with every live fish purchase. When traveling through southwest Ohio, we invite you to visit our fish hatchery. View our locations.
Live Delivery 
Jones Lake Management utilizes specialized delivery trucks. The fish are transported in insulated, live-haul tanks with carefully monitored oxygen levels. Once at the pond, the fish are transported to the water and acclimated by our delivery crew. Fish are measured by total length from closed mouth to pinched tail. Before delivery, they are counted by hand or weighed on certified scales. Learn more about live fish delivery.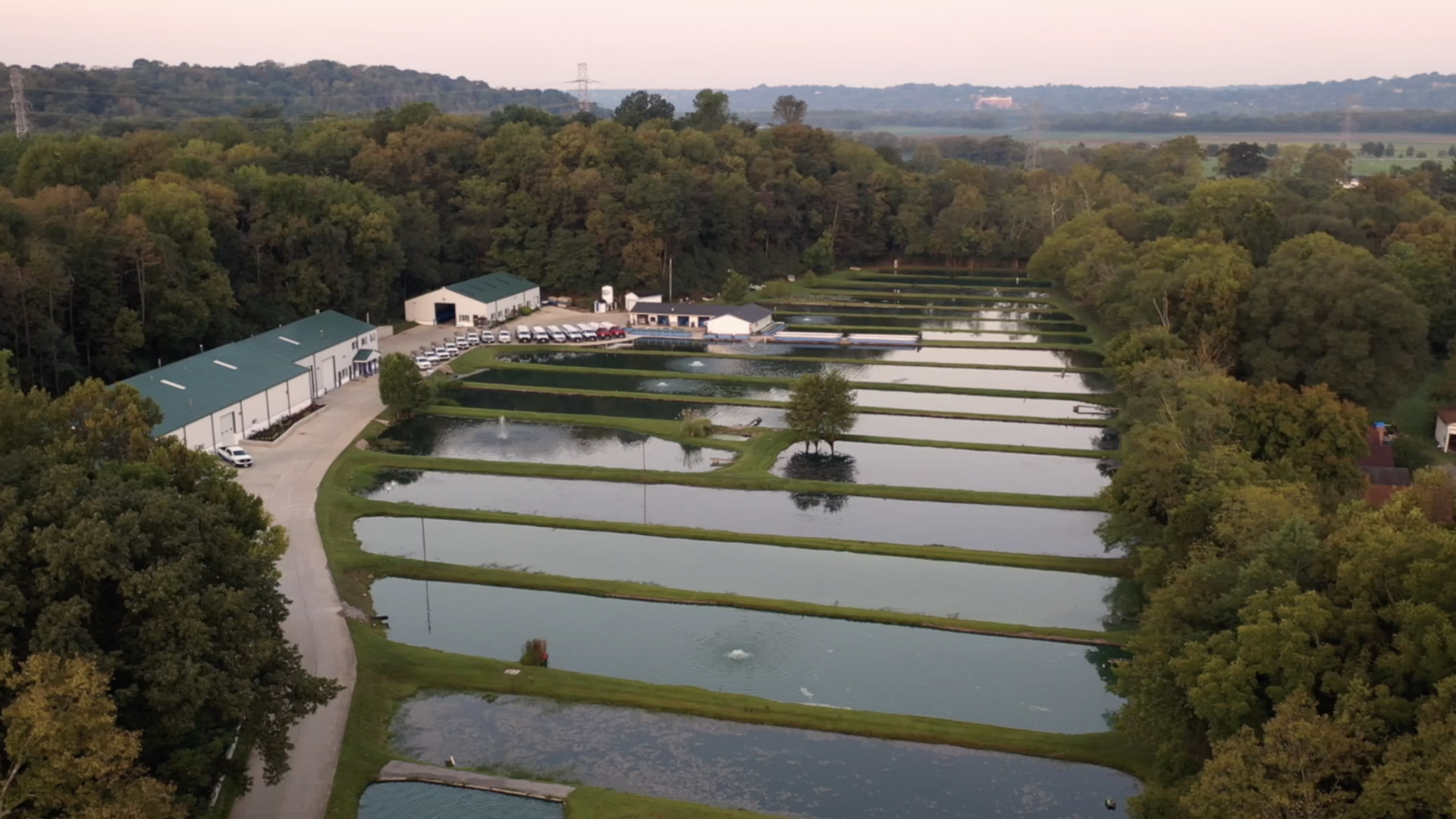 Very helpful and knowledgeable staff, great fish and pond plants...We've been dealing with them for years and couldn't be happier.
Joseph Z.
Google Review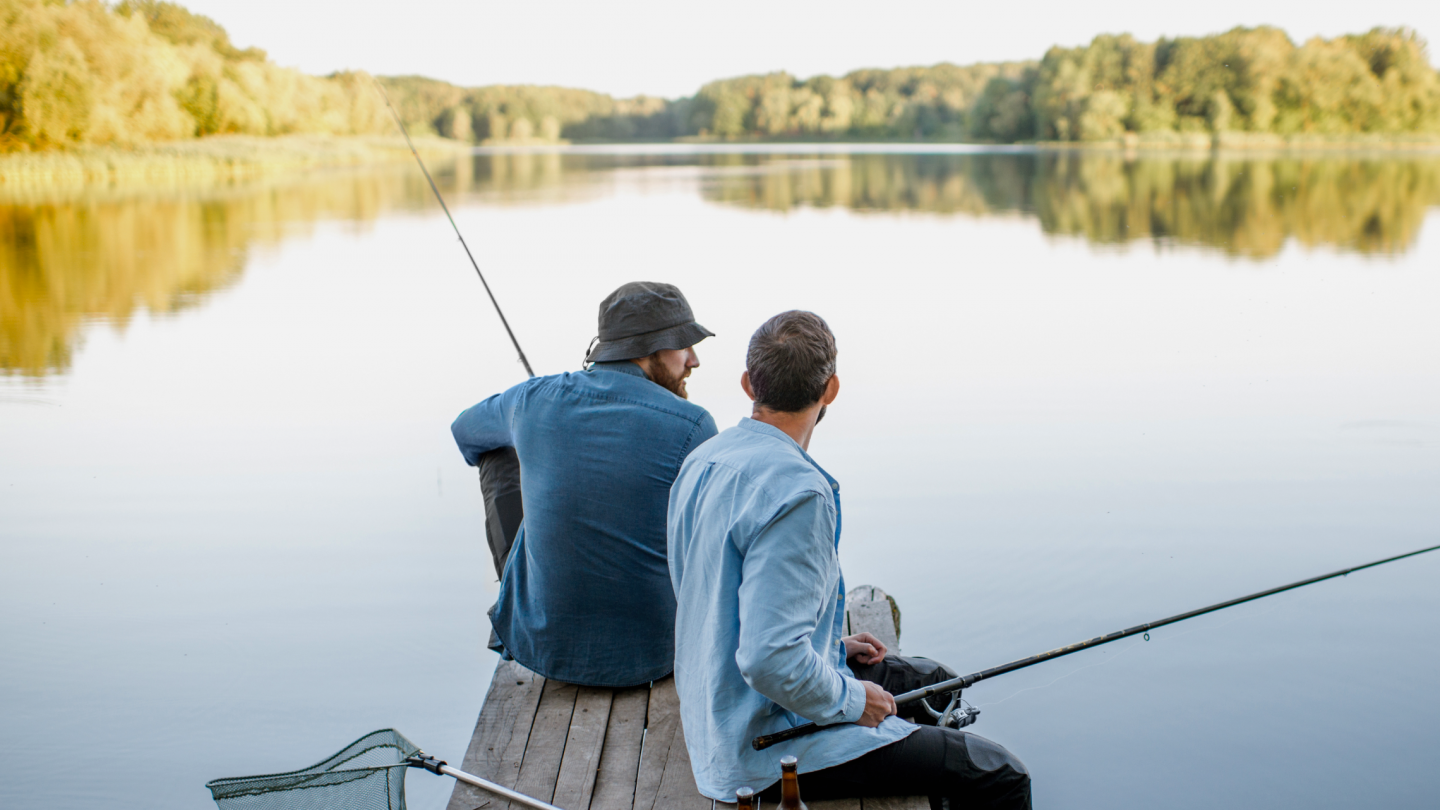 Everyone is always helpful even when I'm not sure what I'm looking for.
Micah W.
Google Review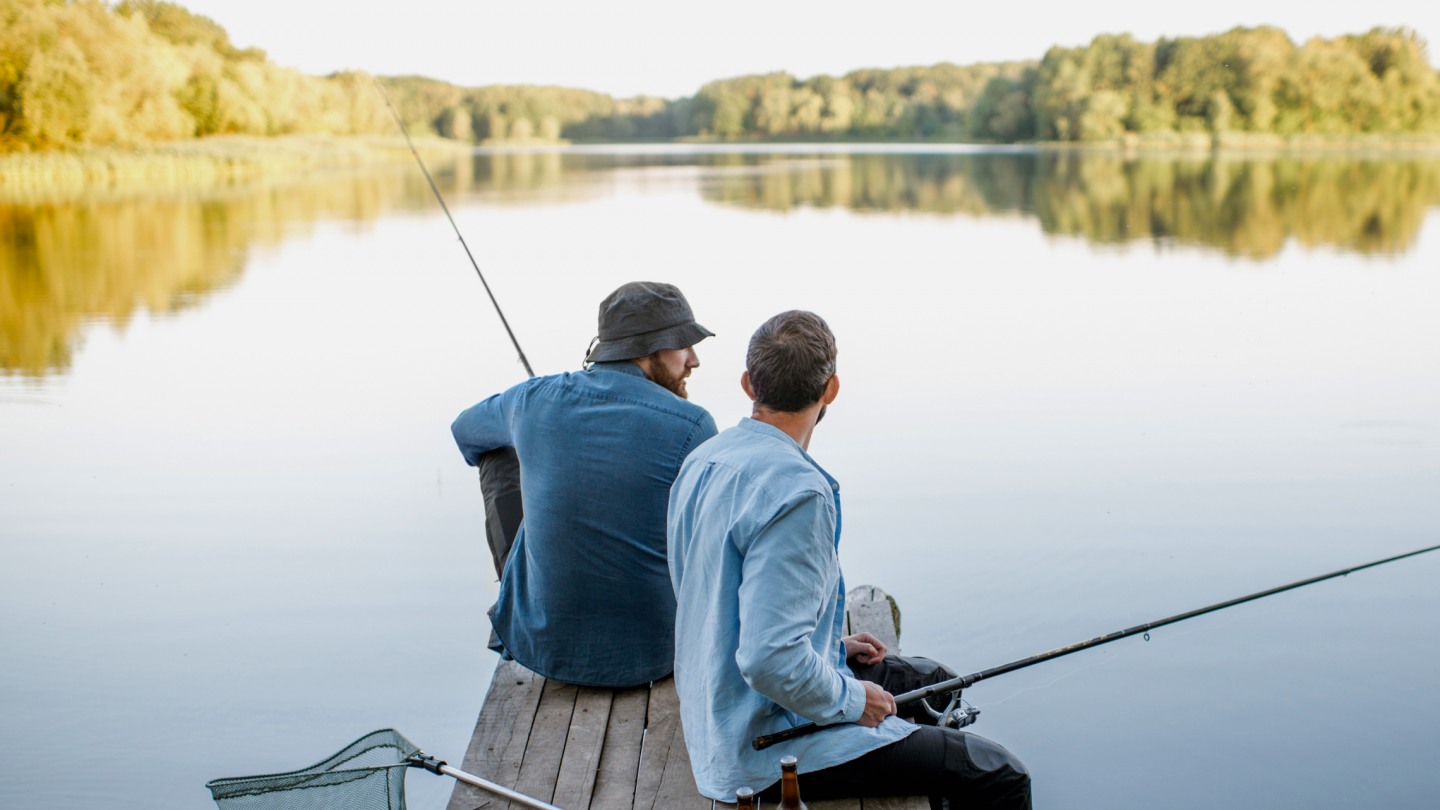 Still need some things answered?
 
Fish Stocking
Stocking native gamefish helps create a balanced and thriving aquatic ecosystem. These fish play vital roles in controlling certain species' populations, contributing to a healthier food chain, and promoting biodiversity. Additionally, native gamefish enhance recreational fishing opportunities and overall enjoyment of your lake or pond.
We offer a diverse selection of native gamefish, including Largemouth Bass, Bluegill, Sunfish, and more. 
Yes, absolutely.  We offer flexible options to suit your needs. Whether you're looking to stock a small private pond or a larger lake, we can tailor the quantity of native gamefish to your specific requirements.
Yes, we do. We understand that transporting live fish can be challenging, so we offer reliable delivery services to bring the native gamefish directly to your property. Rest assured, our team takes every precaution to ensure the safe and efficient transportation of the fish.
Yes, our experienced team is well-versed in the ecological needs of various fish species. We'll work closely with you to assess your waterbody and recommend the most suitable native gamefish that align with your goals and environmental conditions.
Before stocking, it's essential to evaluate the size and depth of your lake or pond, existing fish populations, and any potential issues like invasive species. Our experts can guide you through this assessment to ensure successful stocking.
Our team follows best practices for stocking native gamefish, ensuring a careful and responsible approach. We acclimate the fish to your waterbody's temperature before release and consider the ideal locations to promote their survival and integration into the ecosystem.
The ideal time for stocking can vary based on your region's climate and water conditions. Generally, spring and fall are favorable seasons when water temperatures are mild, helping the fish acclimate better to their new environment.
Absolutely. We carefully consider the existing fish population to avoid imbalances and ensure that adding native gamefish benefits the overall health and diversity of the aquatic community.
Yes, we do. We care about the success of your stocked fish population. Our team is available to provide post-stocking support, answer any questions you may have, and offer recommendations for long-term management and care.